Website security tips for your business. When it comes to website security, not even the most nondescript websites are exempt. Innocuous blogs without credit card information or sensitive celebrity photos are a target for malicious activity, too. No website, no matter how small, is safe from hackers and cyber criminals. Thousands of small business websites are hacked every day, and many of those sites are destroyed – leaving the website owner with no choice but to start over and spend precious time and money rebuilding their website from scratch.
The consequences of a security breach are severe. Apart from compromising your data, hackers can use your server to send spam emails, hold ransomware attacks, inject your content with malicious links, and mine for Bitcoins.
Hacked websites can also suffer from lower SEO rankings and in many cases, depending on the severity of the hack, can even get black-listed by the major search engines like Google.
It isn't all doom and gloom on the web, however. As the threat from ransomware viruses grows, it becomes even more important, especially for small business owners, to have a website security management plan in place to protect their assets.
By integrating some simple yet effective security measures into your website's back end (WP Admin panel), you can run a successful business without worrying about keeping your website safe from hackers and cyber criminals.
Here are a few ways you can strengthen your website and keep it safe from hackers:
Website Security Tip #1: Keep Your Software Updated
A majority of online tools are open-source software programs with easily accessible codes. This means that they are available to both well-meaning developers and nefarious hackers. Cyber criminals often search for security loopholes in these tools (such as WordPress plugins) while finding security flaws in your software to gain access to your website.
Failing to keep your software up-to-date, therefore, leaves an open door for hackers to exploit. Update constantly and upgrade to the latest software versions to make your website less vulnerable to attacks. If you have a WordPress website, you should login to your WP Admin area regularly and update all of your plugins and software tools as recommended. See image below.
IMPORTANT TIP: Do not select the bulk update option when updating your WordPress plugins. It is best to update each plugin one at a time in case something goes wrong during the update process. It will be easier to know which plugin caused the problem so you can take the necessary steps to fix it.

Website Security Tip #2: Use Strong Passwords and Update Them Regularly
While it's tempting to choose a password that's easy to remember, choosing something uninspired like "123456" or "password" is extremely risky. In fact, there has been an upswing in brute force attacks, making your business more vulnerable to criminal attacks. Hackers and cyber criminals are relying on you to be lazy in choosing easy to remember user names and passwords.
IMPORTANT: If you have a WordPress website, it is imperative that you use extremely difficult user names and passwords for your WP Admin login credentials.
To ensure your passwords hold up against cyber attacks, utilize the CLU strategy:
Complex – Use a special mix of numbers, upper- and lowercase letters, and symbols when creating passwords.
Long – Keep your passwords long; use 12 characters, at least. If you could use a longer version of your intended password, don't hesitate to do so.
Unique – Steer clear of potentially easy-to-guess keywords. Use different passwords for different accounts and change them regularly for stronger security.
Make everyone who has access to your website have similarly secure passwords. Holding a high standard of security across the board adds another layer of security to your business. If you can remember your user names and passwords then they are not secure. Here is an example of a good user name and password (Please don't use – for example purposes only).
Sample user name: C2Uiyi6hl7aqX61w
Sample password: <q6_0[54}a<0@|As
Bookmark this free tool to help you generate strong user names and passwords for your websites.
Website Security Tip #3: Use HTTPS
It's natural for users to recognize the small, green Hyper Text Transfer Protocol (HTTPS) bar in their browser bar as a shorthand for security. HTTPS assures them that it's safe to provide personal and financial information on that web page. Google even rewards websites that use HTTPS; since 2014, these websites have enjoyed a positive ranking signal.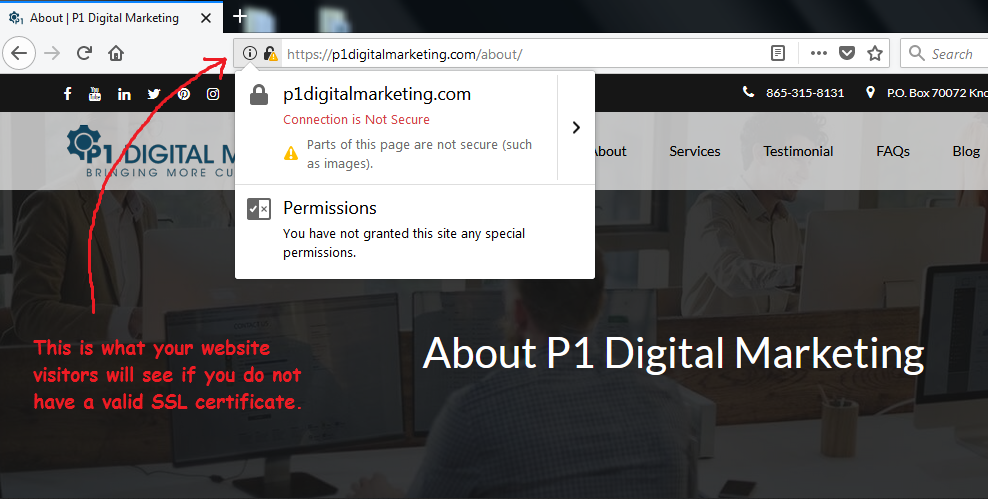 Furthermore, as of 2017, Google started tagging non-HTTPS websites that collect personal information like login credentials, contact form info and passwords as unsecured businesses.
If your website requires visitors to hand over sensitive data, you'll have to invest in a Secure Socket Layer (SSL) for secure communication over HTTPS. The extra layer of protection can go a long way in telling your visitors that you take their privacy and security seriously. Google is now penalizing websites that don't have a valid SSL certificate.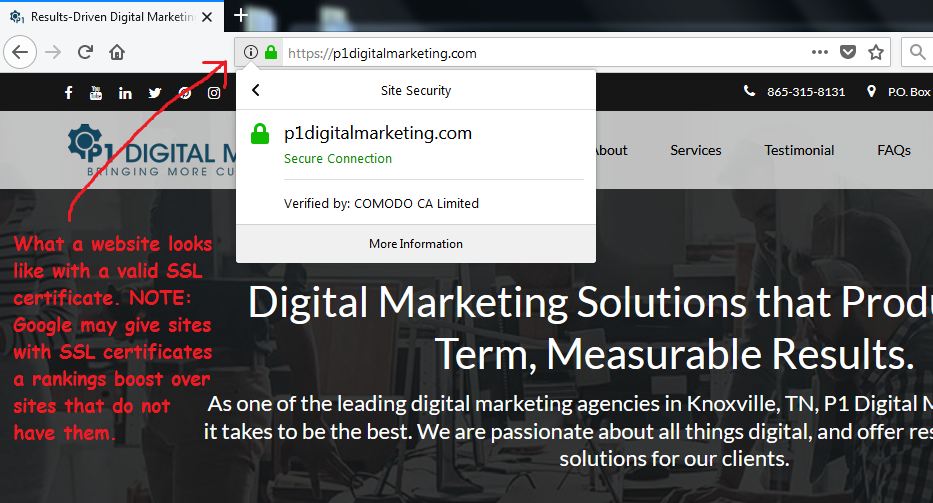 In the digital marketing industry, ensuring the integrity of your website security is paramount. It is in every business owner's best interest to have strong security measures in place to avoid compromising their data and spreading malicious content on the web. This way, businesses can keep their website running fast and become less susceptible to online vandals.
Website security is no longer optional… it's mandatory! Contact us today to learn how we can help protect your website from the Dark Web. We can help you get set up with an SSL certificate and recommend some security tools and resources that will help protect your website.